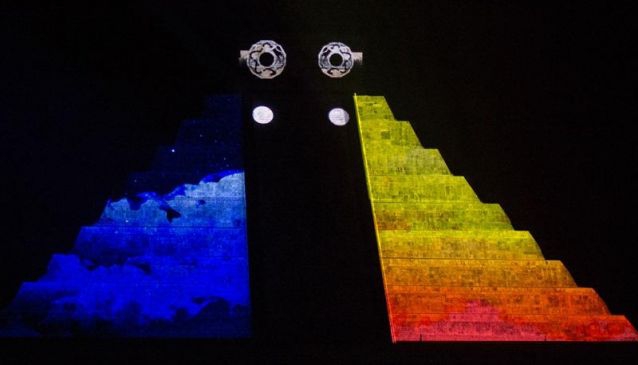 The Night of Kukulcan
Arts & Culture
Witness "Kukulcan" the Serpent-God descending to the ground,
Chichen Itza comes to life after dark, you can now be part of the whole-new Light & Sound. The show consist in a projected light shadow over the architectural elements of "El Castillo", Chichen Itza's most emblematic building.
Attendants will witness "Kukulcan" the Serpent-God descending to the ground, representing the Equinox. Images are also projected on other notorious buildings such as "The Ball Game" where Mayan warriors are represented playing the ball game. As you'll see it was more than just a ball game, but more of a life and death game (We won't spoil the show for you). This is an exciting show full of history, awesome light effects and a brief glimpse into the ancestry of the once powerful Mayan people.
The show is in Spanish AND English and has been a joint effort between the Yucatecan Goverment, the Tourism Ministry, the SEFOTUR and INAH specialists to reach a proposition that brings people to learn more about the Mayan, their infinite heritage and a culture that will prevail as one of the most splendid and greatest civilizations of the world. The script of the show has been enriched and updated from the previous show.
The show lasts about a half an hour, it narrates the cosmogony of the eternal land of the Mayab.
Actions taken for this project consisted in the renovating and modernization of audio and lighting system with cutting edge technology and the novelty of including the implementation of night tours with narrative for visitors in bright areas and predefined path inside this important archaeological area. To create this work an initial investment of more than 5 million USD has been invested.
This new display is very different that the past system of light and sound that was projected in Chichén Itzá. The new show, will not have lights on the ground or grids, the projection is done from a wagon that contains the highest technology available on the planet, making of Kukulcan´s Pyramid a colossal stone screen on which the story is told from the beginning of time, in a brief but intense journey that leaves no doubt about the greatness of the Maya civilization, without no fantasy or metaphor, clichés and myths but in a precise way, according to the research done by recognized, accomplished archaeologists.
The ancient history combined with the lush natural landscape make Chichen Itza one destination that you cannot afford to miss while in Mexico. The show is available from Tuesdays to Sundays at 19:00 hrs.